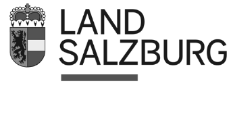 News
(6. Juni 2019)
Talk for Experts on the topic:
Refurbishment and construction in existing buildings - Wohnen findet Stadt! - Hallein
On June 6, a Talk for Experts took place, focusing on refurbishment and construction.
The participants got an insight into the results of the project Wohnen findet Stadt!.
It was shown how an integrative development of smart modernization measures can be carried out, the significance of socio-scientific accompaniment and participation in refurbishment, how building potentials and location factors can be integrated into the development with the help of GIS and which functions the Salzburg Multifunction Facade offers.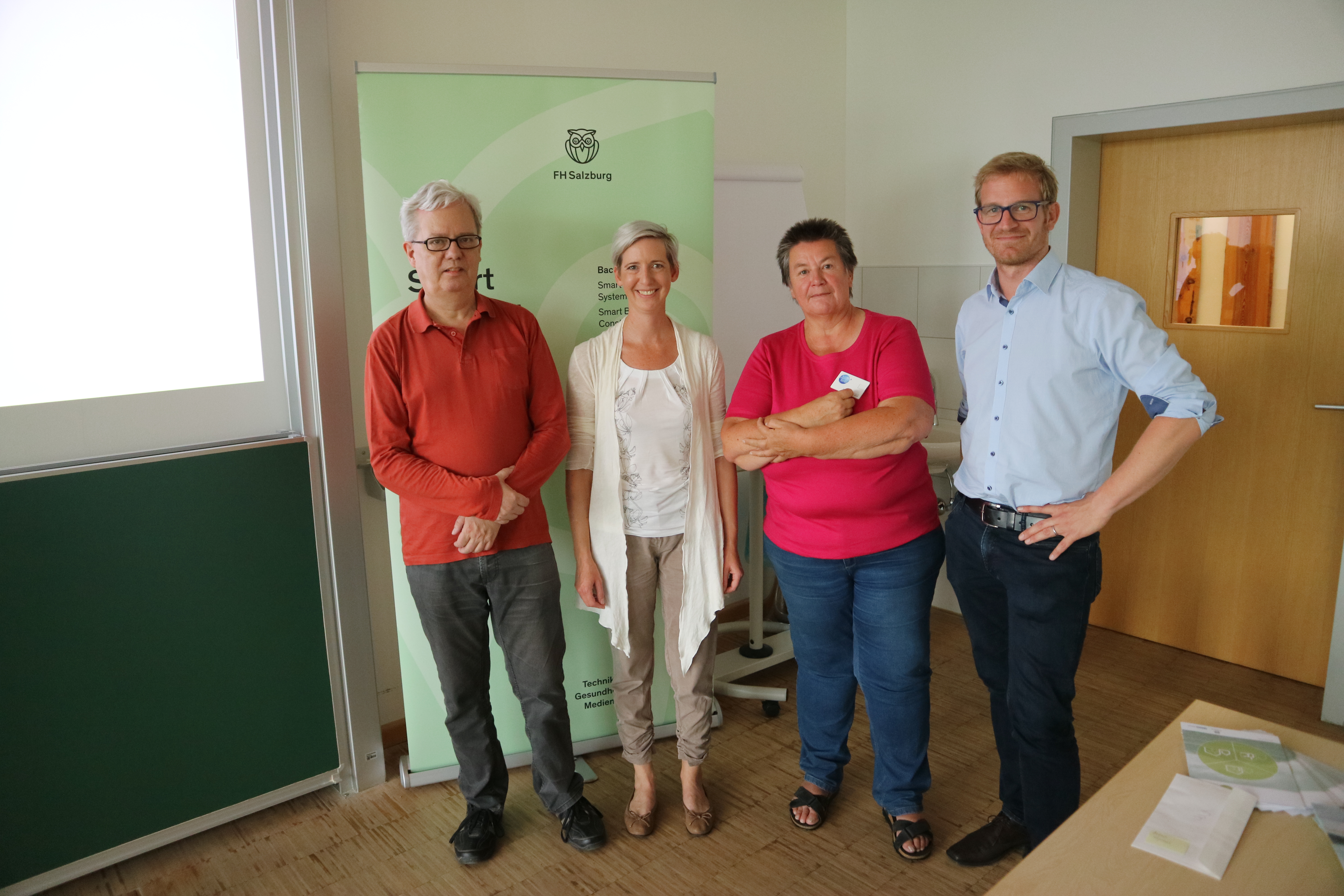 (9. Mai 2019)
Talk for Experts on the topic:
Redensification: the solution for a future-oriented settlement development
On May 9, 2019, the event series Talk for Experts took place at the FH Salzburg, Campus Kuchl.
Around 60 participants learned about how redensification approaches can enable future-oriented settlement development,
what effects densification measures have on the energy efficiency of buildings and what the similarities, differences and opportunities for linking GIS and BIM systems are.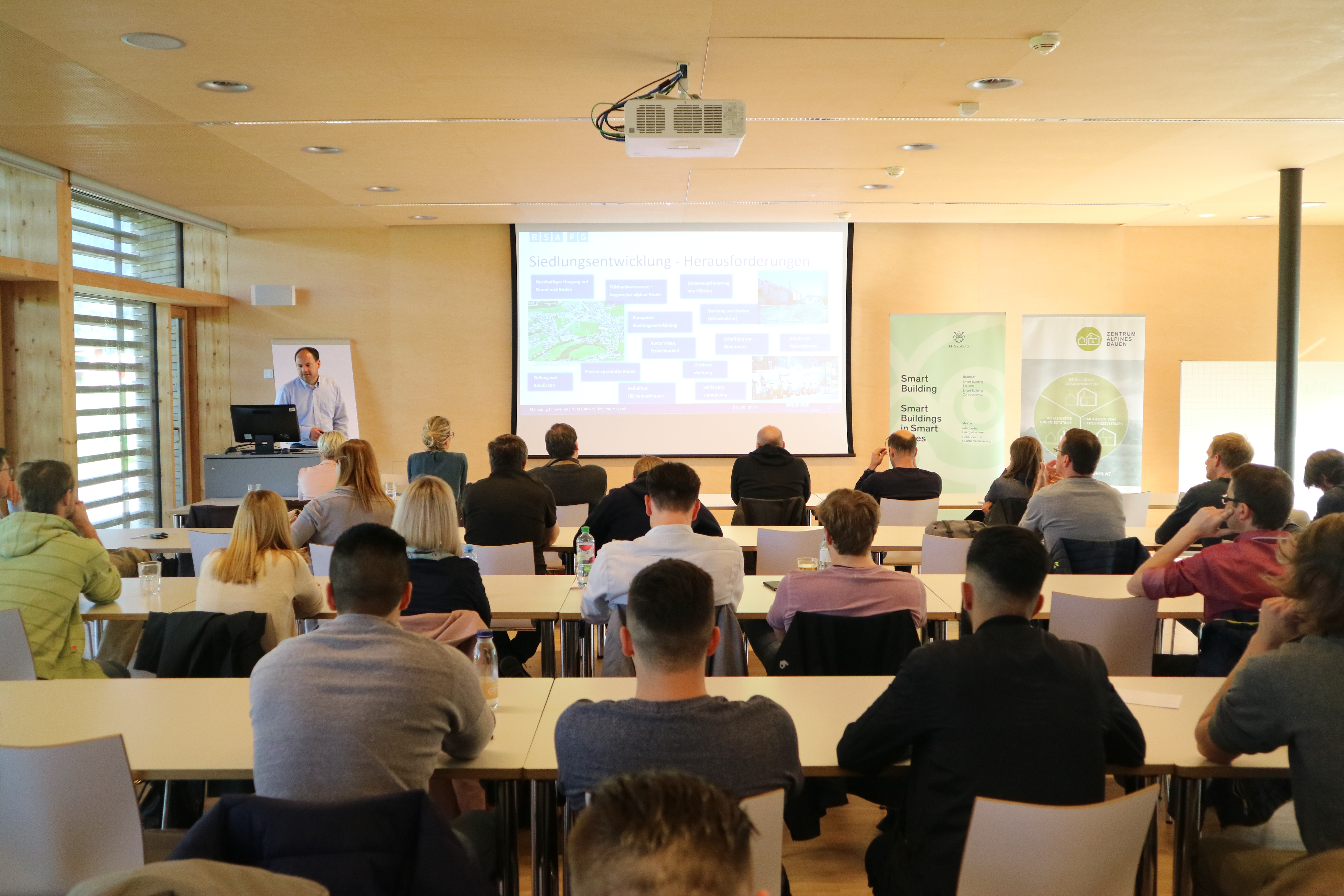 (14th of March 2019)
New video of Alpine Building Centre online!
Information flyer of Alpine Building Centre (German flyer as PDF)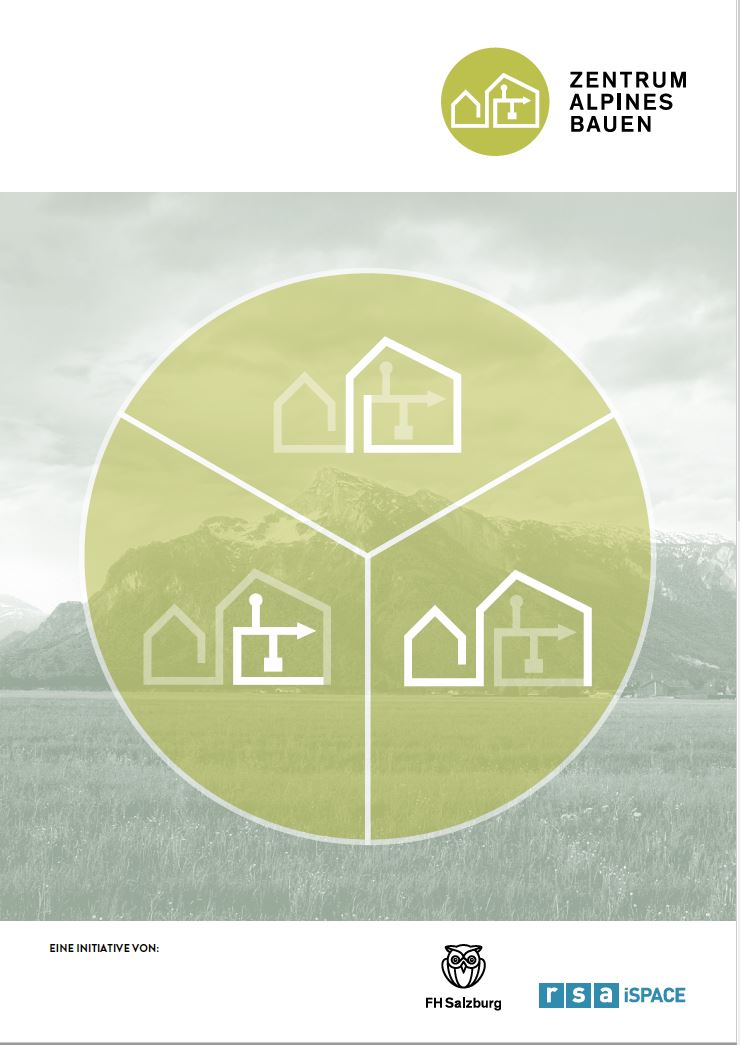 (16th of November 2018)
Report on the opening of the Alpine Building Centre (excerpt from German-language newspaper)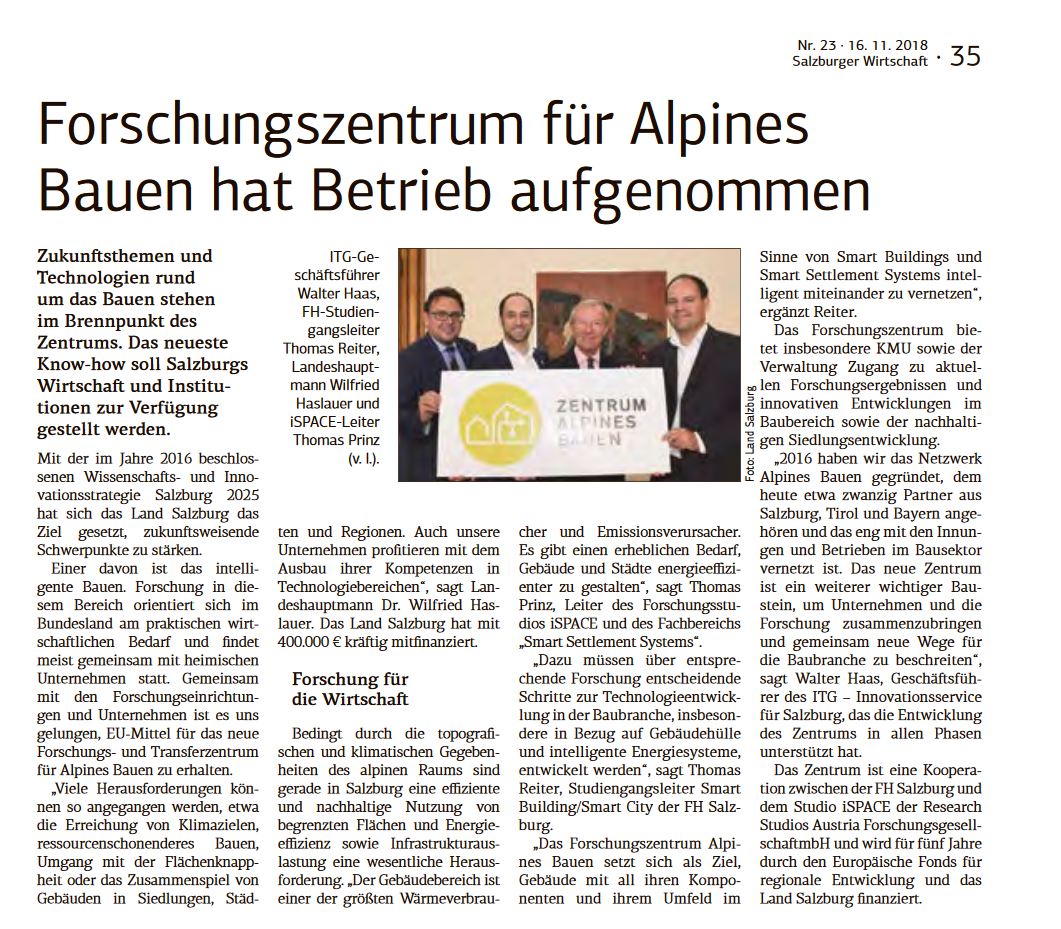 Presentation of the new research and tranfer Alpine Builing Centre

(27th of September 2018)
The new Alpine Building Centre and its three research fields "Smart Energy Systems", "Smart Building" and "Simulation of Settlement Systems" was presented to a public audience during the 5th expert symposium 'Brennpunkt Alpines Bauen' on 27th of September 2018.
The new centre is a cooperation between the Salzburg University of Apllied Sciences and the Studio iSPACE of the Research Studios Austria FG (RSA FG) and is financed by EFRE funds and funds of the State of Salzubrg. Over the next five years, the Alpine Building Centre will focus on important future topics and technologies related to construction.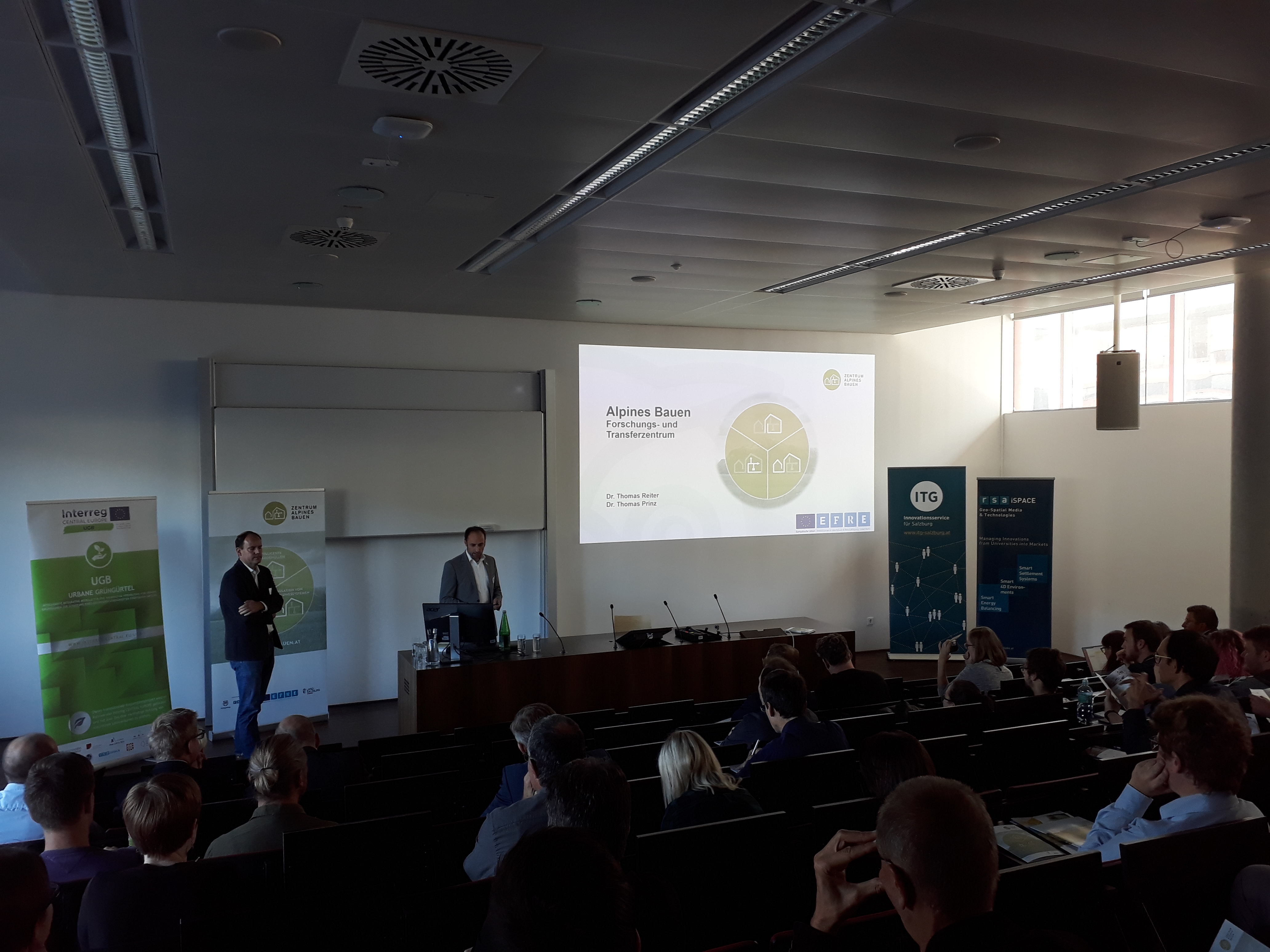 Presentation 'Simulation of Settlement Systems' - German-speaking PDF [Link]
Presentation 'Smart Energy Systems' and 'Smart Building Envelopes' - German-speaking PDF [Link]

(27th of September 2018)
Vortrag bei der "Smart Cities in Smart Regions" Konferenz in Lahti
Bei der "Smart Cities in Smart Regions" Konferenz (26. – 27. September 2018) in Lahti, Finnland, hat der Zentrumsmitarbeiter Michael Bayer, einen Vortrag zum Thema Sanierung im urbanen Raum gehalten. Dabei wurden Forschungsergebnisse im Bereich der minimal invasiven Sanierung unter Einsatz von außenliegender Bauteilaktivierung vorgestellt.
Titel: Integrative development of a multipliable modernization concept in urban districts
Autoren: Karnutsch, M., Bayer, M., Leeb, M., Schweizer, P. & Reiter T.
The paper itself concentrates on the stocktaking (i.e. systematic approach of analyzing the existing building stock) and energy analysis as well as the social science study and the description of the multi-functional façade with its benefits for the tenants and how applying it could lower the energy demand in the district. The gained insights provide the foundation for a subsequent demonstration project in the city of Hallein and ideally is transferable to other districts with similar needs for modernization.
The publication series of Lahti University of Applied Sciences, part 39
ISBN 978-951-827-287-1
http://www.theseus.fi/handle/10024/152653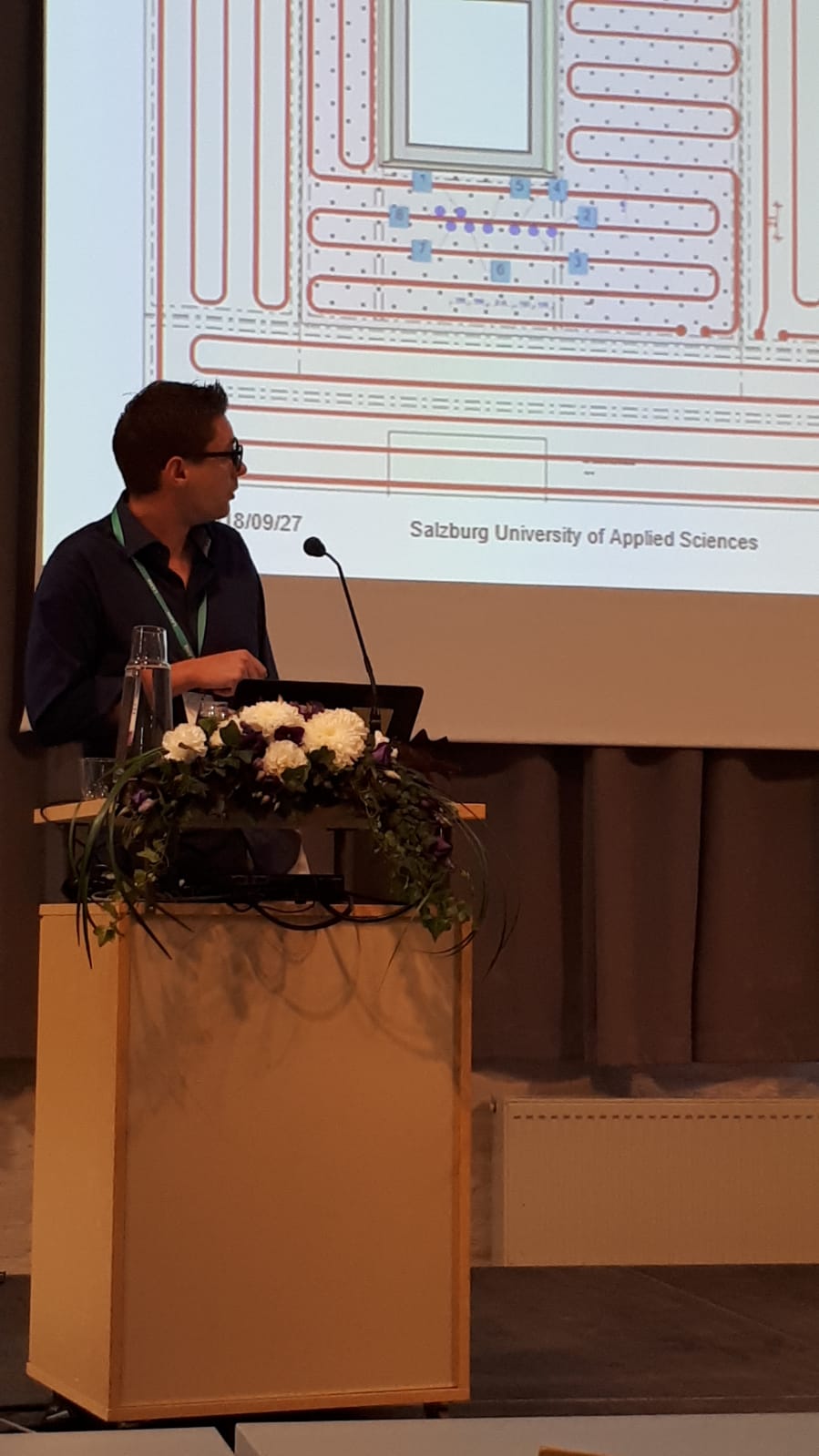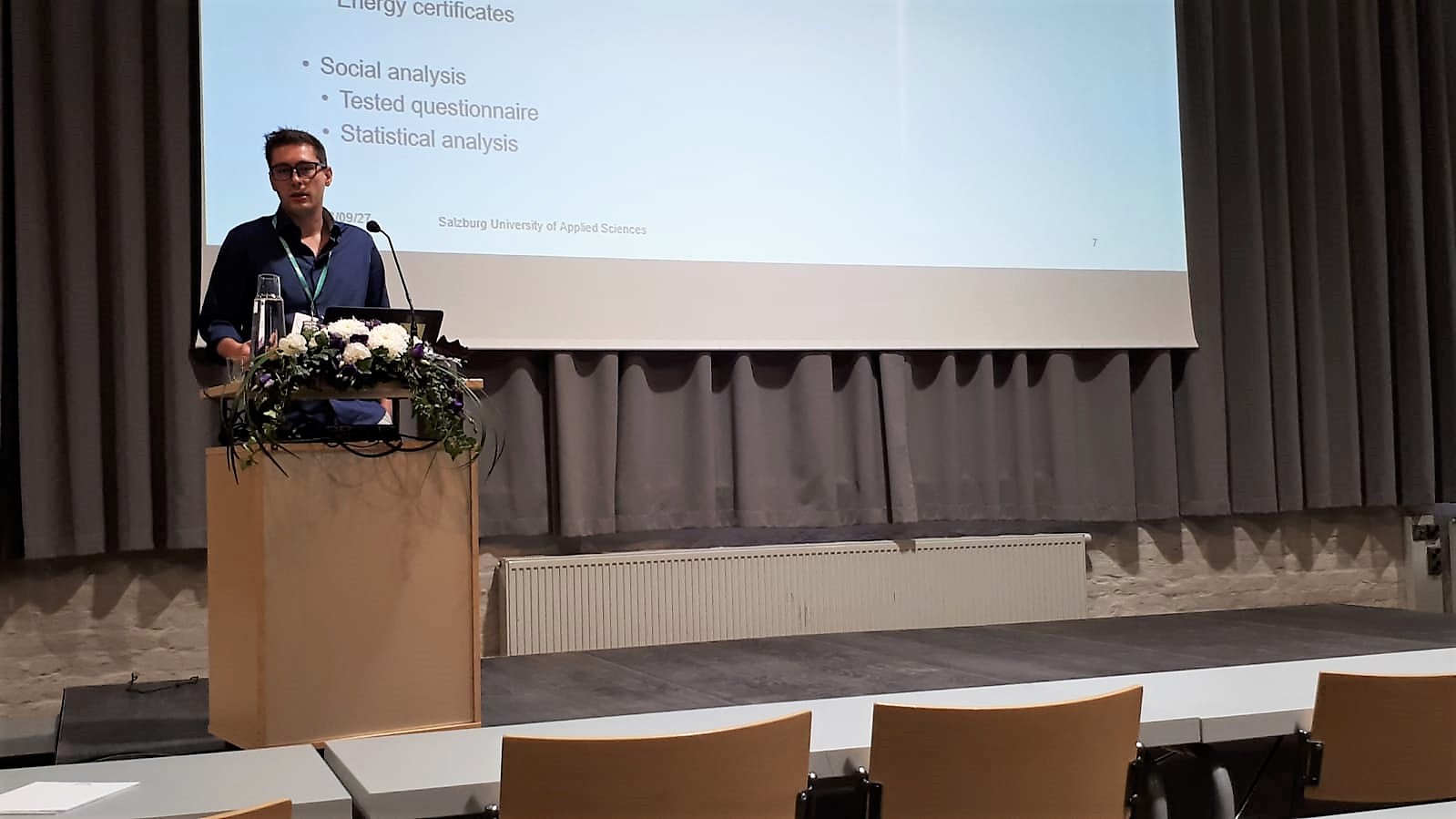 Vorstellung des Zentrums Alpines Bauen in der Zeitschrift "Salzburger Wirtschaft"
(21. September 2018)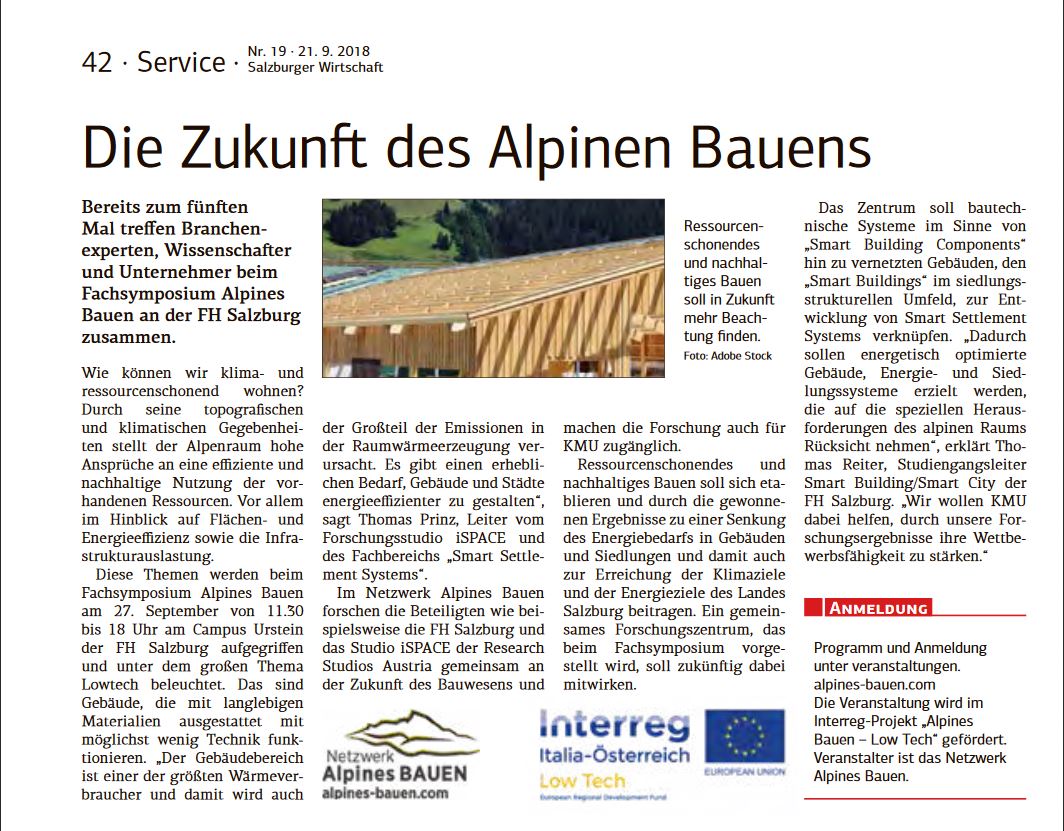 Einladung zum Symposium Alpines Bauen
Das Forschungs­ und Transferzentrum Alpines Bauen nimmt sich der Entwicklung von Beiträgen zu ökologischen, ressourcenschonenden und energieeffizienten Wohn­ und Lebensräumen an. Das "Exzellenzfeld Simulation von Siedlungssystemen" erarbeitet Modelle für ressourceneffiziente Nachverdichtungslösungen als Entscheidungsgrundlage und Steuerungsinstrument für nachhaltige Siedlungssysteme. Lowtech­Ansätze werden in den Exzellenzfeldern "Intelligente Gebäudehüllen" und "Intelligente Energiesysteme" durch die Nutzung natürlicher Ressourcen und bei Bauteilen verfolgt.
Durch Gebäude­ und Siedlungsbegrünung werden wertvolle Beiträge zur Reduktion der sommerlichen Überwärmung, zur Gebäudebeschattung, und Luftqualität geleistet. Ein Werkzeugkasten für die "grüne" Planung des Wohnumfeldes und anschauliche Beispiele zeigen, auf welche Weise man sich die Vorteile von gebäudenahem Grün zu Nutze machen kann. Lösungsansätze für Planer und Entscheider werden im Rahmen einer Gesprächsrunde zu Urbanem Grün diskutiert (Projekt: Urban Green Belts).
Zum Download der Einladung als PDF bitte hier klicken!